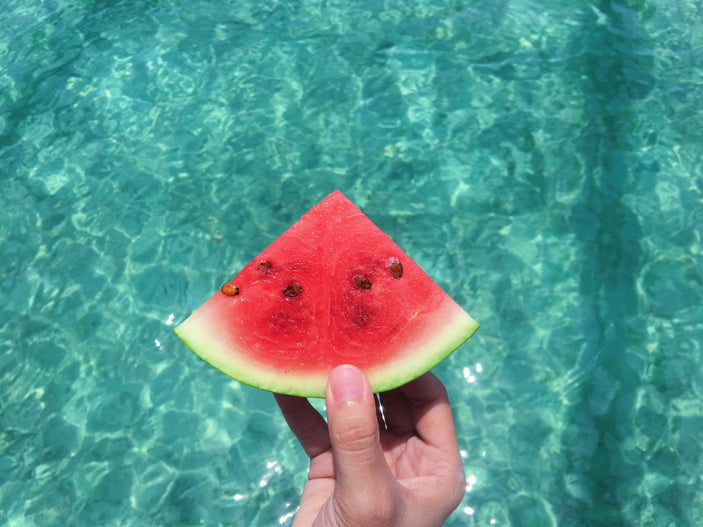 Harnessing the hydrating properties of Watermelon into your skincare routine
Packed with anti-inflammatory properties and radiance boosting Vitamin C, discover why you should be adding Watermelon to your skincare regime. This collagen promoting hero ingredient reduces the appearance of fine lines and wrinkles, making the skin look firmer and more radiant.
Deliciously hydrating and refreshing, particularly appealing on a hot day watermelon is a go-to food to feed the skin. It is fantastic for boosting moisture levels and the skin's natural hyaluronic acid production to keep the skin looking and feeling soft, plump and hydrated.
Watermelon is low in calories yet packed with nutrients including magnesium and potassium and essential Vitamins A and C. Vitamin C also helps the body to formulate collagen and keep the skin looking supple. Equally important are the antioxidant properties, including lycopene, to absorb and neutralise UVA and UVB radiation in the skin, helping to calm irritation, prevent cellular damage and protect against pigmentation.
Watermelon is extremely versatile to incorporate in your diet, adding it to other fresh fruits as a fruit platter or in salads or tapas style on a charcuterie board. It can also be made into a delicious smoothie or juice.
The beneficial ingredients of watermelon to hydrate and plump up the skin and help protect from UV damage can be found in Carol Joy London's Day Care Moisturiser, For Ever Cream, Forevermore Serum and the Lifting Mask. We encourage you to use them at home for your own mini facial boost.